Turbine Engine Compressor Washing Stand and GPU, Fuel Engine Driven (PN: 152-1D/L)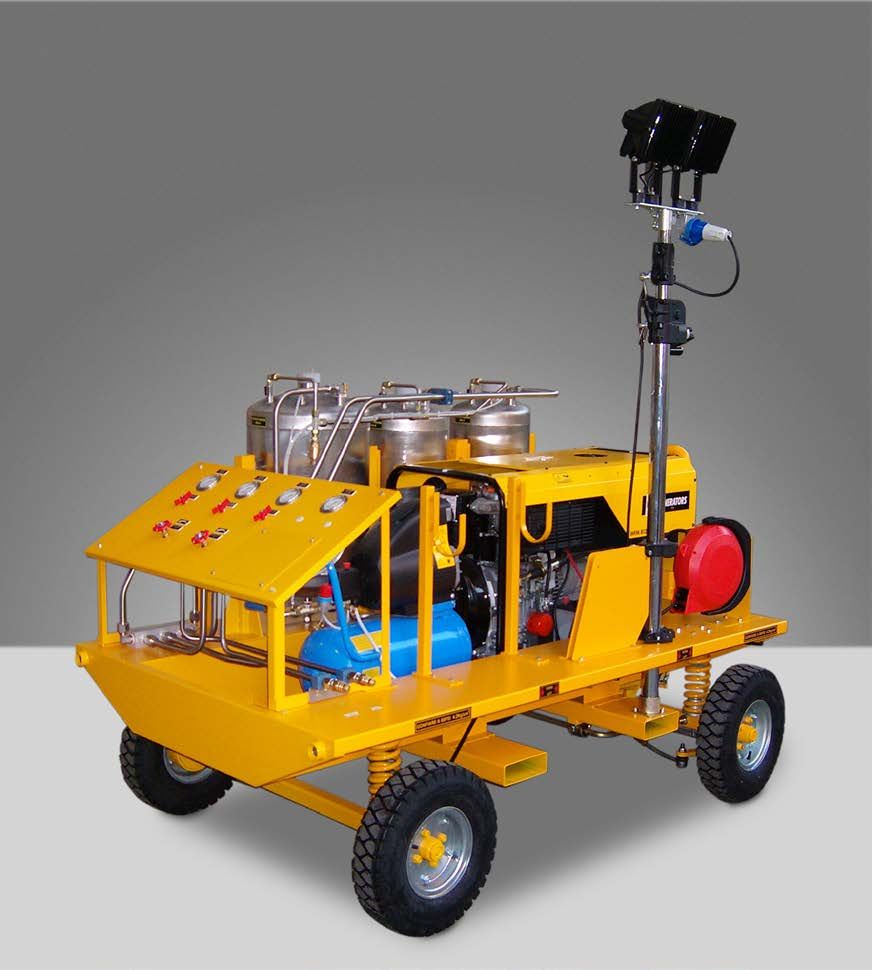 Aircraft turbine engine compressor washing and preserving, auxiliary electric power supply and lighting with floodlight
Main Features
The A/C turbine engine compressor washing unit is realized on a steerable trailer equipped with four pneumatic wheels, towing through a tow-bar at the maximum speed of 30 Km/h. Rear wheels are equipped with hand operated drum brake.
The unit is powered by an air compressor driven by a diesel mono cylinder engine.
The cart is provided with two halogen lamps mounted on extensible pole suitable for night operation
POWER PLANT: Mono cylinder diesel engine + AC generator, with electrical and hand starter; rated power 15kW at 3000 RP
ELECTRIC POWER OUTLET: 230Vac 11,5 kVA
COMPRESSOR: Mono cylinder, power 1,5 kW, maximum delivery 240 LPM at 8 bar, 24 Lt tank capacity
PRIMING: Belt with pulleys coupling, battery compartment and starting battery (12V 70Ah).
DELIVERY: 24 LPM at 60 psi; 30 LPM at 100 psi; 37.5LPM at 135 psi
WORK PRESSURE: Adjustable between 5 and 145 psi
AUXILIARY SOCKET: CEI 17 IEC 309-2 type, 12 VDC max. 200 W
EQUIPMENT: Three main stainless steel tank, one 80 Lt. Capacity, two 42 litres capacity ; 25μ filter (β25 >100);
FLEXIBLE HOSES: Two flexible hoses size 1/2", length 4m FC 332 Aeroquip AQP type, or equivalent
MULTIFIT type with stainless steel crimped coupling
SAFETY FEATURES: Three level of over pressure protection
STRUCTURE: Steel and painted structure mounted on four pneumatic wheels provided with rear parking brake, towing bar in accordance to STANAG 4101or 3510 standards
FLOODLIGHT: Two Halogen ultra bright Lamp 500W each
TELESCOPIC BAR: Maximum extension 4 meters
ACCESSORIES: Test stand textile cover, Wooden crate for transport; O&M manual, CoC, Test report, gauge calibration report.