Hydraulic Test Stand (PN: 120-1D DLP)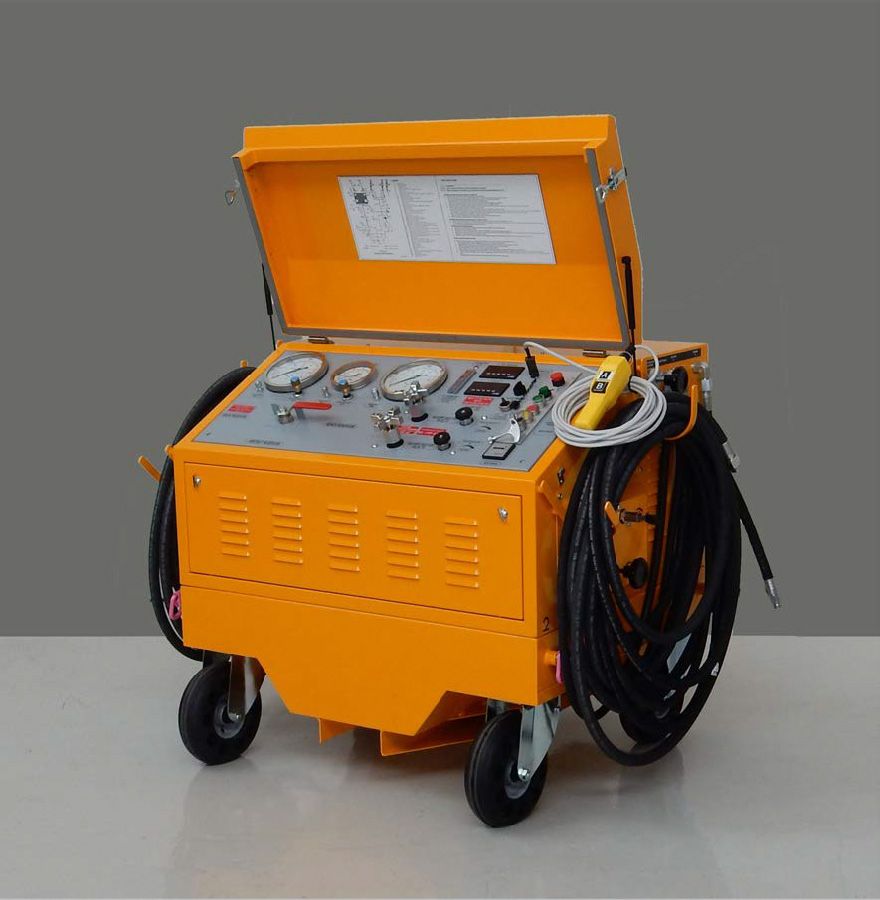 NSN: 4920-15-156-3513
Hydraulic test stand electric motor driven 16 gpm at 3000 psi, max operating pressure 4500 psi. Hydraulic system test and check on medium helicopters and aircraft.
Main Features
Hydraulic Test Stand mounted on a trolley (steel structure) equipped with four super elastic wheels, two of which on rotating plate. A towing bar can be installed as optional device.
Axial piston type, high pressure, electric motor driven pump with variable displacement and adjustable working pressure up to 16 GPM at 3000 psi or 10 GPM at 4500 psi.
High Pressure 3 μ filter on delivery line equipped with electrical differential pressure switch for filter clogged indication.
Submerged cartridge suction filter 90 μ.
Stainless Steel reservoir, externally painted, volume about 110 litres, operative capacity 70 litres, equipped with inspection hole, oil level visual indicator, drain valve, filling and drain port, suction and return port.
The HTS may be used with aircraft reservoir or test stand reservoir, throughout a 4 ways valve 3 positions.
Sampling port to check the fluid class (according to NAS 1638).
Ambient working temperature: from -20°C to +50°C.
Working fluid: MIL-PRF-5606, MIL-PRF-83282 or MIL-PRF-87257. On request Skydrol fluid.
Proportional electric valve, with by-pass function, to set and control the max working pressure.
Mechanical relief valve, to pilot the pump compensator, for the adjusting of the actual working pressure.
The HTS is Dual System (2 completely independent branches, each branch composed by one delivery line and one return line), it is possible to operate with different pressures (with the aid of two pressure reducing valves) on both circuits simultaneously. On return line the back pressure can be adjusted.
Instrumentation
H.P. gauge, branch "A", F.S. 6000 PSI, ∅ 150 mm, accuracy 0,6% f.s., case filled with silicon oil for low temp
H.P. gauge, branch "B", F.S. 6000 PSI, ∅ 150 mm, accuracy 0,6% f.s., case filled with silicon oil for low temp
L.P. gauge, return pressure, F.S. 160 PSI, ∅ 100mm, accuracy 0,6% f.s., case filled with silicon oil for low temp
Flowmeter, LPM or GPM and Thermometer, °C digital indication.
Oil level sight indicator. Clogged filter indicator. Hour-counter.
Electric Motor
Power rating 15 KW.
Power Supply: 230/400Vac/50Hz threephases +GND, 63A; 200/440 VAC/60Hz, threephases +GND, 63A.
Option
The test stand (DLP version) is equipped with a Laser Particle Counter (P/N KLP-120), for continuous monitoring the hydraulic fluid, without sampling it, for presence of particles and/or water presence inside the fluid.
Accessories
Standard:
Refilling remote control, power supply cable length 10 m with plug 3P+GND 63A according to CEE17 (CEI23-12); two delivery H.P. flexible hoses (size 1/2″ length 8m), two return L.P. flexible hoses (size 3/4″ length 8m); one drainage flexible hose (Size 1/2″ length 8m).
Test stand textile cover, wood crate for transport, O&M manual, CoC, Test report, gauge calibration reports and fluid contamination report, laser particle counter calibration certificate and O&M manual (DLP version).
On request:
Tow bar, max towing speed 5 km/h