Ground Power Unit, Diesel Driven, 28VDC Output (PN: 104-6)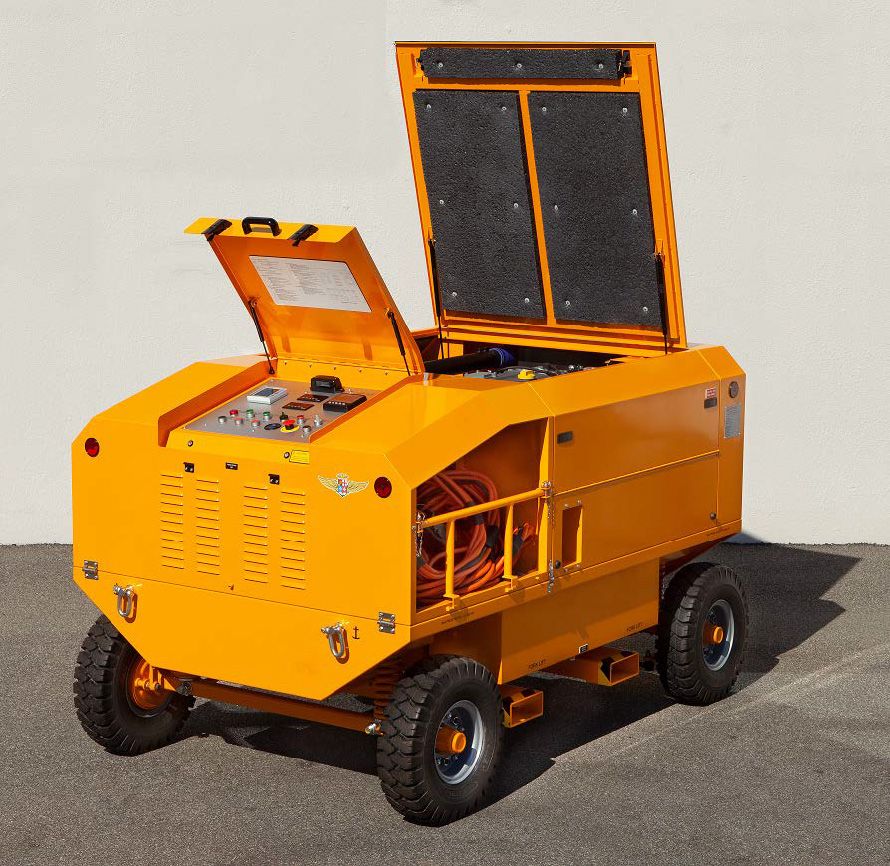 Medium and heavy helicopters electric power supply during maintenance operations and starting of turbine engine.
Main Features
Ground Power Unit, Diesel driven, for 28Vdc output, mounted on a steerable trailer (steel structure) compliant with MIL-M-8090F, equipped with four pneumatic wheels and a towing bar for a maximum speed of 30 Km/h.
The GPU in addition to the main outlet at 28Vdc is normally equipped with the auxiliary output at 28 Vdc (socket according to CEI standard), 2 poles, 25A max.
Electrical Output
DC Output: 28Vdc 500A continuous, 1300A for 2sec
Connectors compliant with STANAG 3302
DC voltage adjustable range: 24-32 Vdc
Auxiliary outputs: 28 Vdc (socket according to CEI standard), 2 poles, 25A max.
Protections/Safety Devices
The GPU is equipped with the following protection / safety devices:
Overvoltage
Undervoltage
Overcurrent
All the above mentioned devices are implemented on digital cards, fully programmable.
The methods and application are compliant with STANAG 3457, Ground Electrical Power Supply For Aircraft and MIL-STD-704F, Aircraft Electrical Power Characteristics.
Instrumentation
DC digital ammeter, range 0 ÷ 500 A, peak reading up to 1350A (up to 10 sec).
DC digital voltmeter, direct connection, scale 0-40 V.
The diesel engine instrument: hour counter / RPM readout / fuel level.
Diesel Engine
Deutz BF4M-1013, 4 cylinder 90kW continuous at 2.000 Rpm, equipped with electronic speed control, allowed fuel are common diesel fuel or aeronautic JP8 (compliance MIL-T-83133, NATO code F-34) without any change.
Ambient operative temperature: –20°C + 50°C.
Certified DIN ISO 3046-1 / EU9768 STEP1, emission opacity lower than requirement stated in ECE R24.
Autonomy: up to 8 hours at engine rated power.
Accessories
Standard: 28Vdc output power cable (length 10 m) with plug according to Stanag 3302
Test stand textile cover wood crate for transport; O&M manual, CoC, Test report, DC instrument calibration report.
On request: cold starting kit up to -32°C or up to -40°C.