Hydraulic Test Stand Diesel Powered (PN: 136-1DF)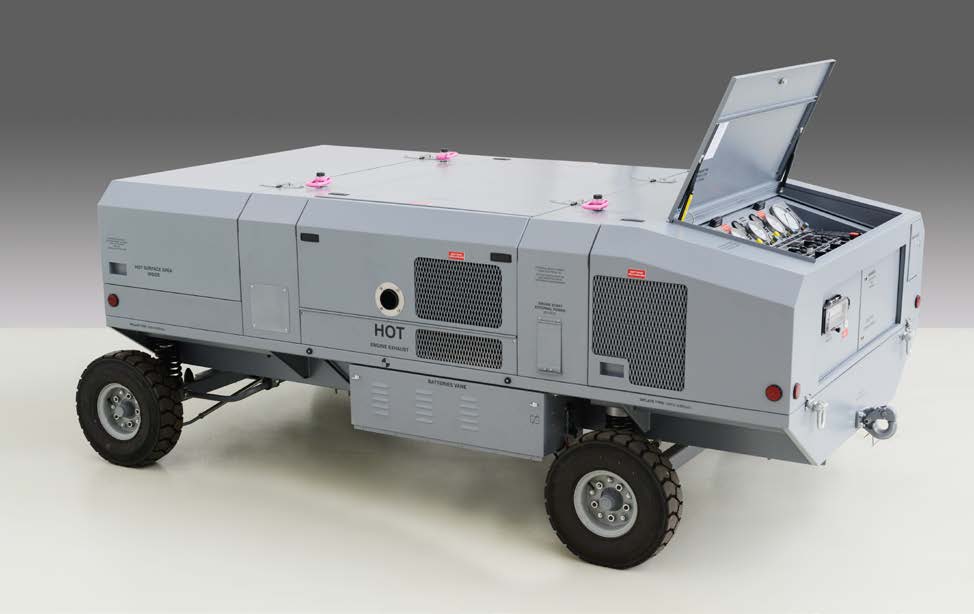 Hydraulic test stand diesel powered, 30 gpm at 4500 psi, max operating pressure 4700 psi at reduced flow. Hydraulic systems tests and checks on JSF-F35 military aircraft
Main Features
Hydraulic Test Stand mounted on a steerable trailer (steel structure) equipped with four pneumatic wheels, compliance MIL-M-8090F, towing by a tow-bar at max speed of 30Km/h. Equipped with guides for fork–lift, crane lift and tie down fitting. Rear wheels equipped with drum brake hand operated.
Diesel engine driven, up to 30 GPM at 4500 PSI, maximum operating pressure 4700 PSI at reduced flow.
Two axial piston pump, with variable displacement and adjustable working pressure coupled with booster pumps are managed by proportional controls.
In the hydraulic circuit are present the following filters:
3μm LP filter on booster pump line
3μm HP on each delivery lines
3μm LP on each pump drain port
All filters are provided with differential pressure switch for filter clogged indication. Stainless steel reservoir (280 liters capacity) equipped with: inspection hole, fluid level sight gauge, filling and drain ports, suction and return port.
The HTS may be used with aircraft reservoir or test stand reservoir.
Sampling port to check the fluid class (according to NAS 1638).
Environmental working temperature: from -40°C (-40°F) to 48°C (120°F).
Fluid operating temperature from -10°C to 75°C; max fluid temp. for alarm shutdown 85°C.
Working fluid: MIL-PRF-83282C or MIL-PRF-87257.
The HTS is a dual system (2 completely independent branches). Each branch is composed by 1 delivery line and 1 return line and it gives the possibility to define the pressure of the two lines independently and different delivery flow on both circuits simultaneously. Aircraft reservoir filling system. Return back pressure system, adjustable up to 140 PSI
The test stand is equipped with a Laser Particle Counter, for continuous monitoring the hydraulic fluid, without sampling it, for presence of particles and/or water presence into the fluid.
The test stand is qualified i.a.w. MIL-STD-461(electromagnetic compatibility) and MIL-STD810G (adverse environmental condition).
Instrumentation
H.P. gauge, branch "A", double scale F.S. 6000 PSI, 40 MPa, K 0,6%
H.P. gauge, branch "B", double scale F.S. 6000 PSI, 40 MPa, K 0,6%
L.P. gauge, return and booster pressure, F.S. 160 PSI, 1000 KPa, K0,6%
Double Digital flowmeter, LPM or GPM readout. Digital thermometer, °C readout
Fluid level; fuel level, mechanical hour counter
Diesel Engine
The hydraulic test stand is equipped with Deutz diesel engine series TCD2013 L04 2Vm, turbocharged diesel engine; 24V battery voltage, 4 kW starting motor; the engine is fully controlled by electronic system EMR. Cold starting temperature, without external aid, till to –30°C; it may operate with common diesel fuel or jet fuel JP8 (compliance MIL-T-83133, NATO code F-54).
Moreover the engine is certified TIER IIIA. Autonomy: till 8 hours at engine rated power.
Accessories
Standard: two delivery H.P. flexible hoses (size 3/4″ length 15m), two return L.P. flexible hoses (size 1"1/4″ length 15m); one drainage flexible hose (size 3/4″ length 15m). Test stand textile cover, O&M manual, CoC, Test report, gauge calibration reports and fluid contamination report.