Avionic Cooling Cart (PN: 190-9MD)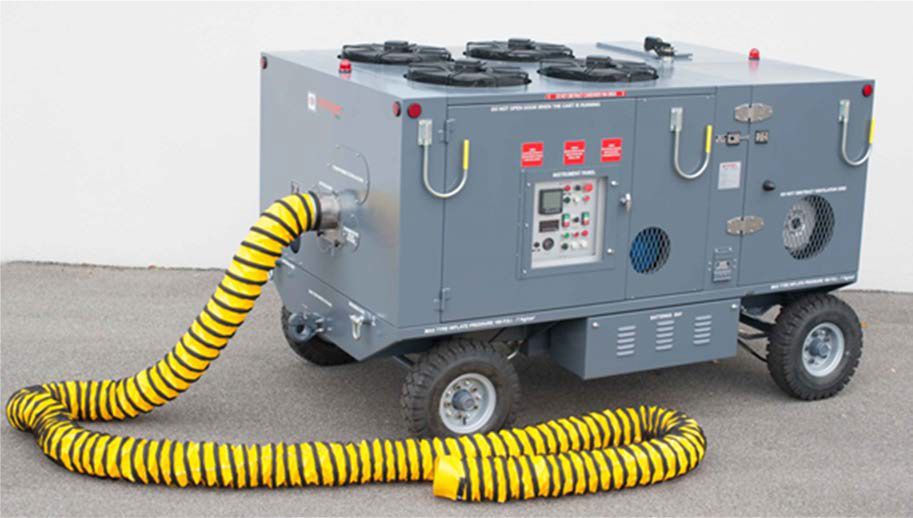 Equipment Designed For Cooling And Ventilation Of The Aircraft Avionic/Cockpit
Main Features
Air Cooling Test Stand mounted on a trailer (steel structure) in compliance with SAE-AS-8090 (ex MIL-M-8090F), equipped with four pneumatic wheels, hook and tow-bar. Maximum speed: 30 Km/h. Rear wheels equipped with hand operated drum brake. The power plant of the AC cart is composed by a generator coupled to a diesel engine. The AC cart can be used indoor due to the possibility to be supplied from workshop electrical line, bypassing the power plant. For this purpose the AC cart is supplied complete of an inlet power cable (see accessories). Diesel driven, the AC cart supplies air for avionics ventilation / conditioning, compliant to the following main requirements.
Technical Characteristics
Power plant: Deutz diesel engine, 41,4 kW @ 1800 RPM
Main generator: 32 kVA @ 1800 RPM, 400Vac 50 Hz / 460Vac 60 Hz
Max cooling capacity: 29.200 kCal/h
Max total pressure: 680 mmH2O
Delivery flow up to: 2150 mc/h at 500 mmH2O, 10 °C (+/- 2°C) and 50 % U.R. about
HCFC: The equipment is HCFC total free
Working temperature: Environment from -10 °C to +45 °C
Compressor: 10 kW
Refrigerant: R134
Evaporation Temp.: -2°C
Condensation Temp.: +45°C
Instrumentation
Digital thermometer °C readout
Hour counter
Delivery pressure digital indicator
U.R. % digital indicator
Accessories
Standard: input power supply cable length 10m with plug 3P + Neutral + GND 63A according to CEE17
(CEI23-12), output air flexible duct, diam 160mm, length 10m.
Test stand textile cover, wood crate for transport, O&M manual, CoC, Test report, F-GAS book record.
Fuse kit as spare part.
Option: on request, different type of helicopter / aircraft interface flange are available.