Power Supply Generator with Floodlight (PN: 144-6)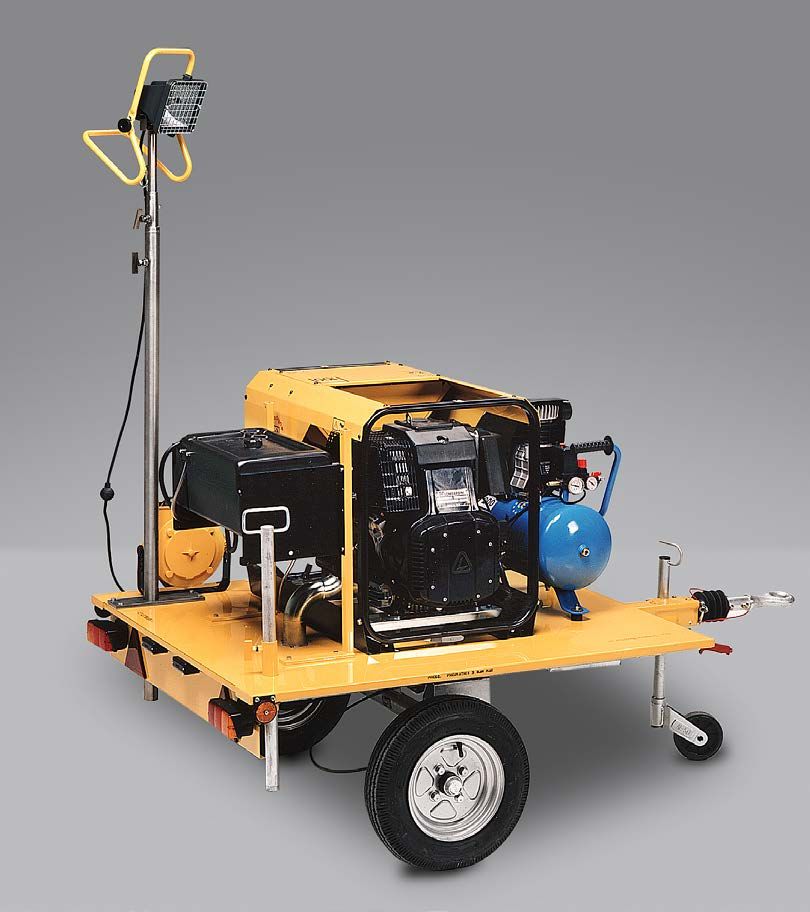 General purpose elecetric GPU and air compressor powered by diesel engine.
Main Features
The power supply generator is composed by a two wheels trailer where are installed a 230Vac 50Hz power supply (alternator), driven by a mono cylinder diesel engine that in addition supply power to an air compressor and an halogen lamp mounted on 3 meters pole.
DIESEL ENGINE: Monocylinder, with electrical starter
OUTPUT: 230V monophase, 50Hz, 5KVA, cosϕ 0.8
CONSUMPTION PER HOUR: 1.8Lt at full load
ALTERNATOR: Synchronous type, IP23 protection, H class protection
NOISE LEVEL: 75 dbA (100 LWA) at 7mt distance
PRIMING: Direct coupling, elastic supports, battery compartment and starting battery
ELECTRIC PANEL: Comprehensive of key switch for starting, battery charge light, oil level light, fuse board, voltmeter, hour meter, differential switch, n°2 magnetothermic switch, n°2 socket F+N+GND within CEE 17, IEC 309-2 specifications
SAFETY FEATURES: The electrical circuit includes: overload protection, short-circuit protection and electric leakage
FLOODLIGHT: 500W halogen lamp mounted on an telescopic pole (maximum length 3mt) removable and equipped with its pedestal
Accessories
Wooden crate for transport; O&M manual, CoC, Test report.