Laser particulate counter for hydraulic fluid analysis (PN: KLP-120)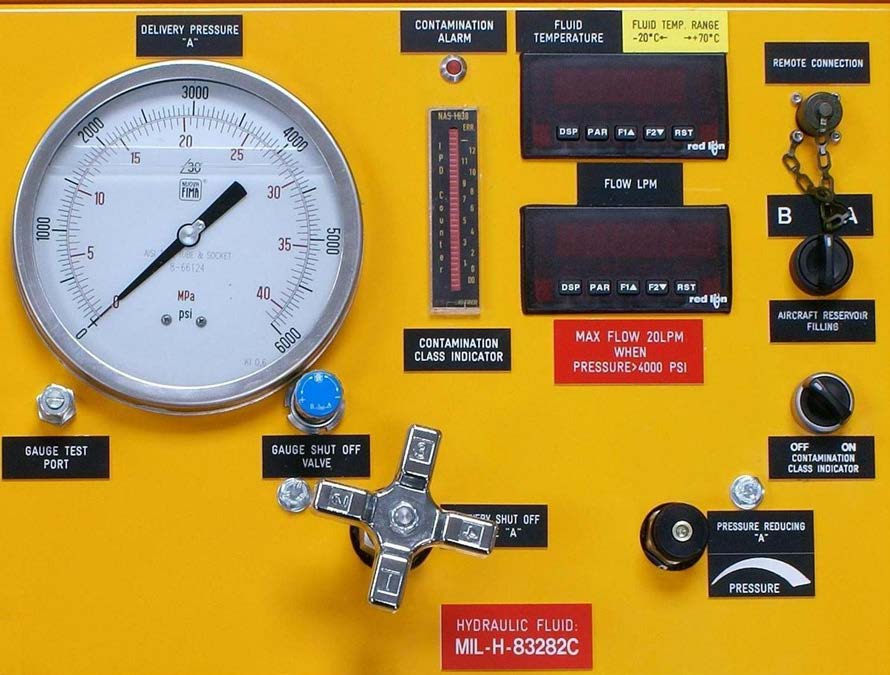 PN: KLP-120
NSN: TBC
Laser particulate counter for hydraulic fluid analysis. Monitor hydraulic fluid contamination both for particles and/or water presence
As optional device on new Hydraulic Test Stand P/N 120-1D or as retrofit on already-in-use Test Stand
Main features
The P/N KLP-120 is a checking system to monitor hydraulic fluid, both for particle and/or water presence. The system, which includes a digital reading instrument, is designed to be installed on the hydraulic test stand P/N 120-1D (also as retrofit) and on request on bigger hydraulic test stands of our production.
This instrument is equipped with a laser counter device which monitor the contaminating particle and can be fitted with an optional hygrometric sensor to alert about water presence in the fluid; a led bar indicator on the instrument panel allows to identify and read the contamination class. The relative humidity level (if the optional hygrometric sensor is installed) is also available through a direct connection to the sensor.
The contamination level value is given in NAS or ISO class, while the hygrometric sensor gives the percentage value of relative humidity between 0 and 100 (Rh%).
The system is installed to verify at choice the delivery or return line of the test stand P/N 120-1D and allows the operator to monitor continuously the particle contamination and the relative humidity in the hydraulic fluid both in the test stand and from the aircraft hydraulic circuit.
A reference value or a threshold value can be set, in NAS1638 classification value, to avoid the possibility that the test stand or the aircraft works with contaminated fluid.
An output signal can be associated to a desiderate reference value in order to manage different type of alarm systems, such as a visual and/or acoustic alert or test stand automatic stop.
With the aids of this system it is possible to manage the cleaning process of aircraft's hydraulic systems fluid, setting the fluid level NAS/ISO class to be reached and/or monitoring the trend of the contamination by setting an alarm of maximum threshold reached.
The system has a RS232 port for the direct interface with external PC / PLC. With the software given in the kit is possible to download the tests reports and to store test records.
The kit KLP-120 can be installed in an existing test stand at our premises as a retrofit. The kit installation need a different configuration of the instrument panel of the test stand and minor internal modification which do not modify standard use procedures.