Air & Ground Aviation Ltd are the UK distributor for Prism portable lighting systems.  These lightweight and compact systems are useful for many applications including work sites, emergency services, outdoor recreation, sporting events and more!
Contact sales@airandground.com for more information and pricing.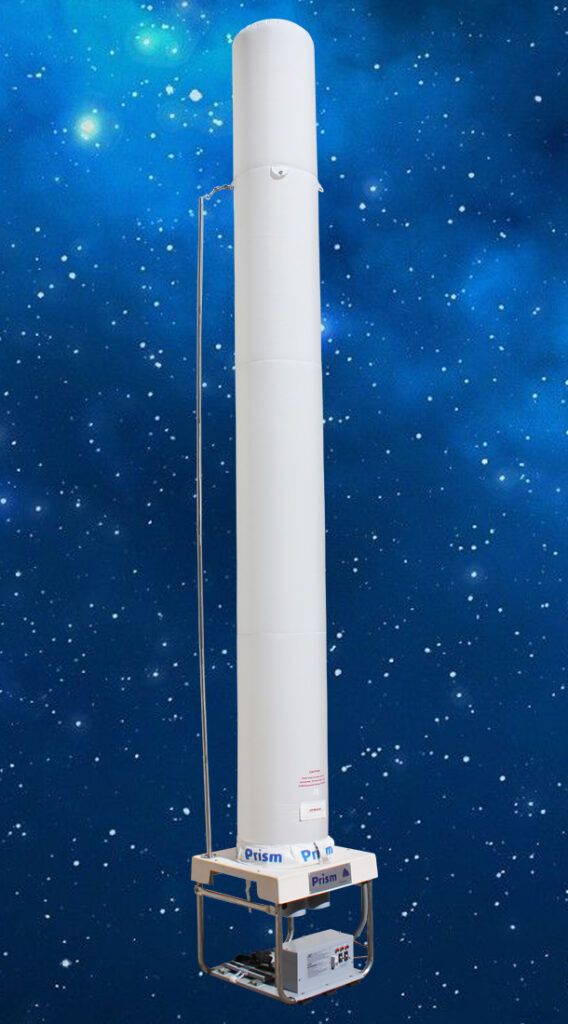 PIL 1000 Inflatable Light
Lightweight, Foldable & Portable.
Takes just 30 seconds to inflate and 3 minutes to achieve its best illumination level.
One-person operation – Easily operated by an individual.
Portable – Conveniently transported in the trunk of a minivan or SUV.
Inflates to 4.5 meters/15 feet from ground.
1000 W metal halide lamp (95,000 + LM of brightness).
Lights up an area around 17,678 sq. ft. at an illuminance level of 3 lux in outer periphery.
Cools and Deflates (folds back) easily in less than 10 minutes.
Multiple towers can be used to light up a large area.
Stainless Steel stabilizing pole with guy ropes and sand bags are provided to withstand wind speeds upto 45 MPH (73 KMPH).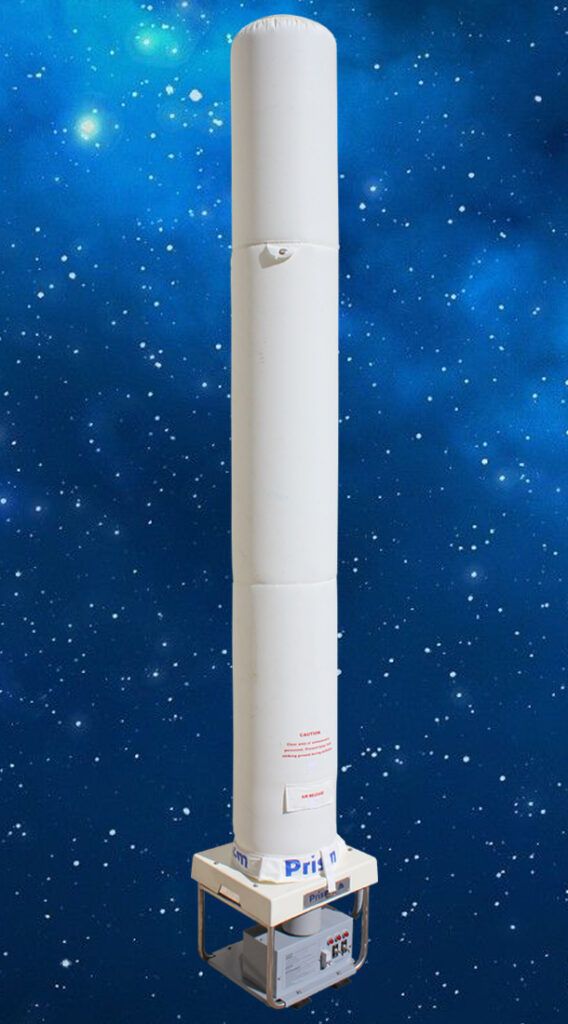 Lightweight, Foldable and Portable.
Can be carried in the back of a car.
Takes just 10 seconds to inflate & 3 minutes to achieve its best illumination level.
It can be easily operated by an individual.
Inflates to a maximum height of 2.8 meters/9 feet from ground level.
250W metal halide lamp (22,000 LM of brightness).
Lights up an area of around 585 sq. meters (700 sq. yds).
Cools & Deflates (folds back) easily in less than 3 minutes.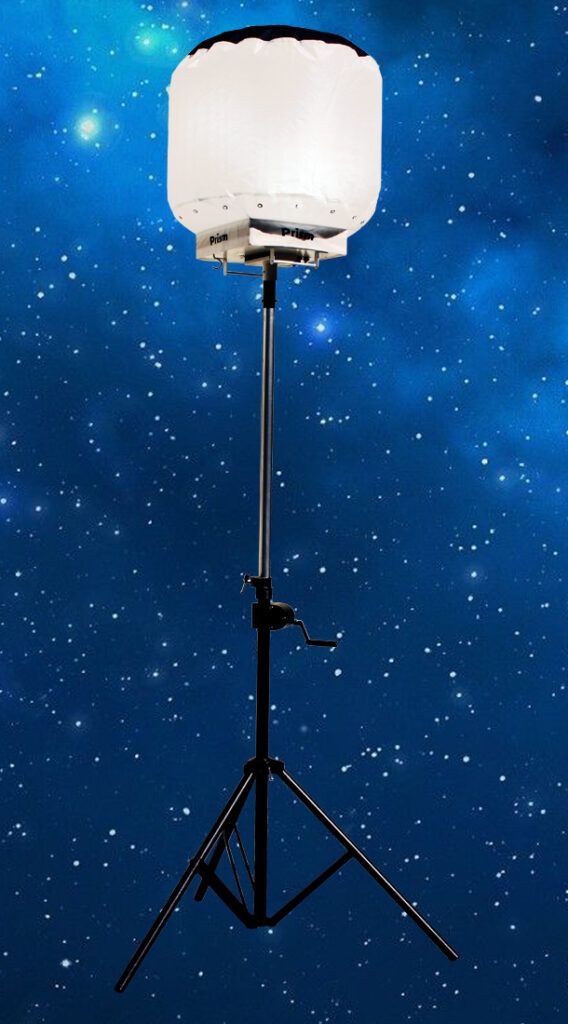 Our LED's are very efficient: our 500 watt light only pulls 4.5 amps, where a 2000-watt halogen light pulls approx 16 amps and is not as bright.
Instant re-strike, extremely mobile, and can be plugged into any 110 -230 V outlet.
Our LED cells last on average 100,000 hours and upwards of 120,000.
Can be powered by an inverter, solar panel or battery pack of its remote locations because for its low amp draw.
Can be attached to a small generator on a roll cart for easy mobility, great for flagger stations or anywhere diffused lighting needs to be mobile.
Our balloon design allows for the extremely bright and directed LED cells light to be filtered and diffused so that it is easy on the eyes and safe to work around.
Ideal for year-round use, even in extreme conditions: weather-resistant, water proof, UV-resistant, and fire-retardant balloon.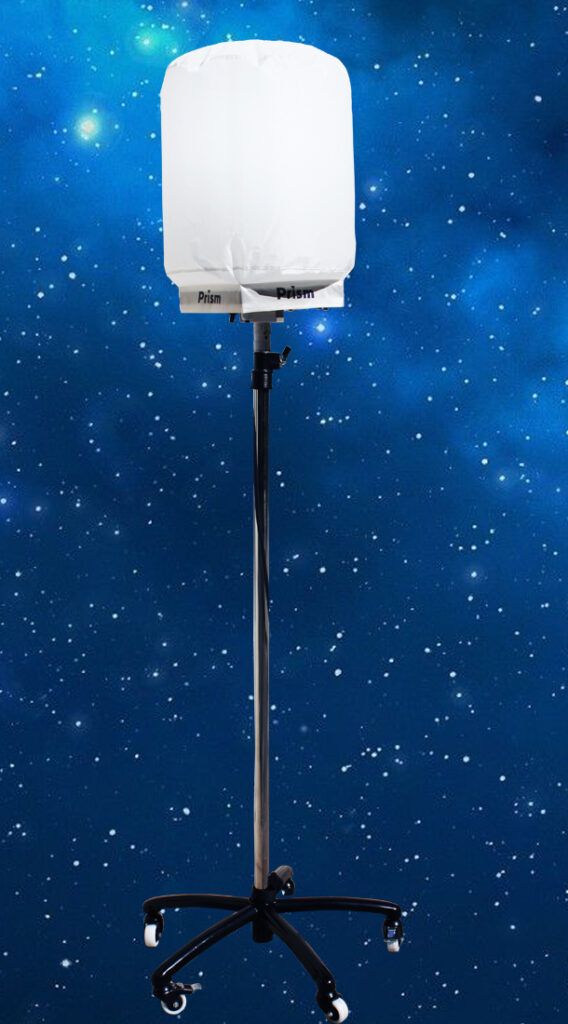 Energy efficient LED Corn bulb 100 W / 160 W.
Instant ON/OFF, and can be plugged into any 110-230 V outlet.
Sturdy base with wheels makes the unit very mobile.
Telescopic stand extends the light unit from 53 inches to 96 inches.
Very quiet blower fan for inflating the balloon and maintaining temperature of the LED bulb.
Extremely bright light output with white weather resistant balloon for diffusion of light.